FBI Special Agents Daniel Alfin and Laura Schwartzenberger, who died in a Sunrise, Florida shootout Tuesday, devoted their careers to investigating crimes against children. The two were killed at an apartment complex executing a federal search warrant. Three other agents were wounded, two of whom were transported to the hospital and have since been released. The suspect in the shooting died at the scene and the FBI has said the investigation is ongoing. Miami FBI Special Agent in Charge George Piro called the shooting and the loss of Alfin and Schwartzenberger, "a very dark day for the FBI."
The agents were known for their exemplary efforts in the field, curbing child abuse with their investigatory work and educating students to the perils of sex crimes. "Our chosen profession is fraught with danger. Today this grim reality has taken two of our best from our family," Piro said.
According to federal court documents, Alfin said he was "recognized as an expert in federal court in areas relating to computer forensics and the investigation of child exploitation crimes. "The documents added that he had testified on more than 20 occasions as a witness, across more than 10 federal jurisdictions.Alfin played a critical role in a massive investigation that led to hundreds of child pornography arrests, according to a 2017 FBI statement. Officials at the time stated, "The case — and the thousands of follow-up investigations it has launched — is unprecedented in its scope and reach."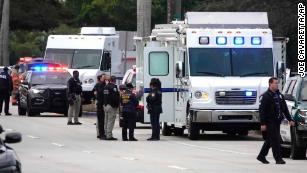 In this day and age no one is safe from violence, even hose out here protecting others and putting their lives on the line.